The Wellness Blueprint
Are you a high achiever feeling overwhelmed, stressed, and burned out, desperately seeking a change in your life?
It's time to take action and reclaim your well-being.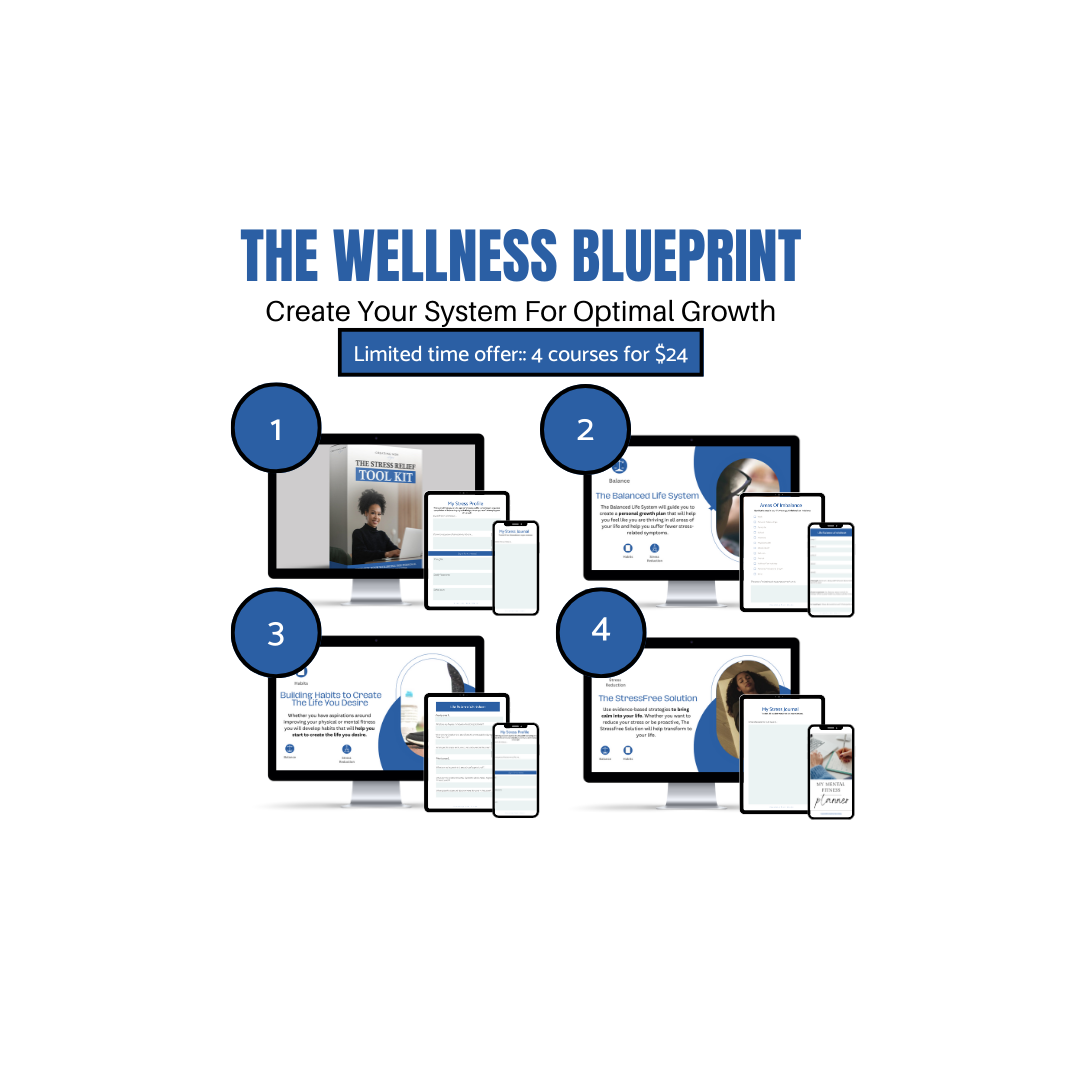 Introducing The Wellness Blueprint
Unlock a brighter future with our comprehensive on-demand course bundle designed exclusively for a high achiever like you. Say goodbye to stress and anxiety, and step into your optimal zone where you can thrive.
Unlock 4 Courses for $24!
Your Transformation Starts With
👩🏽‍💻 A pathway to finally help you gain clarity and create a life you want to live
🌟 Lifetime Access: A one-time fee grants you lifetime access to our transformative courses.
👥 Community Support: Join a vibrant online community of like-minded people on the same journey
💼 Evidence based tools and systems to help you transform from chaos to calm and in charge of your life
💡Strategies to help you reduce daily stress including guiding you on how to set up systems to live and work more intentionally
🔥Approaches to optimize your wellbeing and enhance your energy and productivity so you can be present in your daily life
🎊 Special surprises to help keep you motivated and on a path of continuous growth (Bonuses)
🎮 Gamified learning to help keep you engaged in your transformative journey
Take A Look At The Courses You'll Get 👇🏽
Course 1: The Stress Relief Toolkit

🎯 Your Goal: Optimize personal and professional well-being.

🧩 What You'll Learn:

Set meaningful well-being goals.
Understand the root causes of your stress.
Complete your stress profile.
Develop personalized stress management strategies.
Take intentional steps towards a purpose-driven life.
Course 2: The Balanced Life System

🎯 Your Goal: Find balance in your life.

🧩 What You'll Learn:

Define your unique balance.
Identify areas of imbalance.
Create a personalized balance plan.
Transition from chaos to calm.
Course 3: Building Habits to Create The Life You Desire

🎯 Your Goal: Cultivate positive habits.

🧩 What You'll Learn:

Understand the importance of habits.
Replace negative habits with positive ones.
Start your journey towards forming positive habits.
Access resources for habit formation.
Course 4: The StressFree Solution

🎯 Your Goal: Optimize well-being and stress less.

🧩 What You'll Learn:

Explore well-being strategies.
Set goals for each area of your life.
Cultivate morning and evening routines.
Practice relaxation techniques.
Improve sleep quality.
Manage negative thoughts and establish boundaries.
Discover mindful nervous system regulation.
Master time management.
Regular price $99
Today's price $24
Here's what others are saying 🗣️🗣️
"This course has shown me that stress presents itself in many different ways and there is long lasting effects to ignoring it."

"Since taking this course I have been identifying the negative habits in my life and have been prioritizing which ones need to be changed first based on the way they are impacting my quality of life"

"Since this course I am starting to be more mindful with my day to day life, I am more present and involved in what's going on around me in the moment rather than continuing to think about all the next things to come. I have also started going for little walks in the evening where I can just focus on being present."

"If I really had to change one thing about this course it would be to have found it sooner than I did."
Embrace your transformation today with The Wellness Blueprint
Don't let stress hold you back from living your best life. Join our community of empowered people, and take the first step towards a brighter tomorrow.
🌟 Click below to purchase the course bundle and start your journey to well-being and success. Your future self will thank you. 🌟
Reach out here to purchase for employees in your organization